Engage your audience with CoinGecko Ads
Discover and inspire the crypto community to drive action for your brand at the most popular crypto data aggregation platform.

200 million +
Monthly Page Views

40 million +
Average Monthly Users

2.3 million +
Total App Users
Our success starts with our clients
Explore our advertising solutions
Boost brand awareness through impression-based banner ads.
*Available on desktop and mobile web.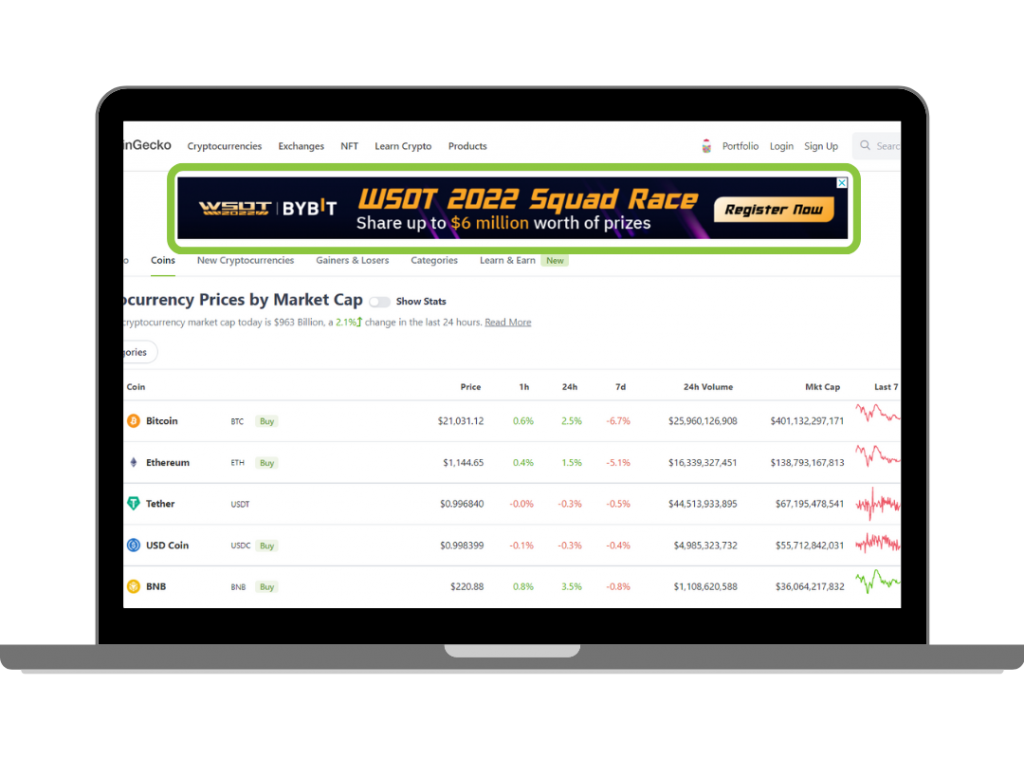 Top Leaderboard Banner
(970×90, 728×90, 320x50px)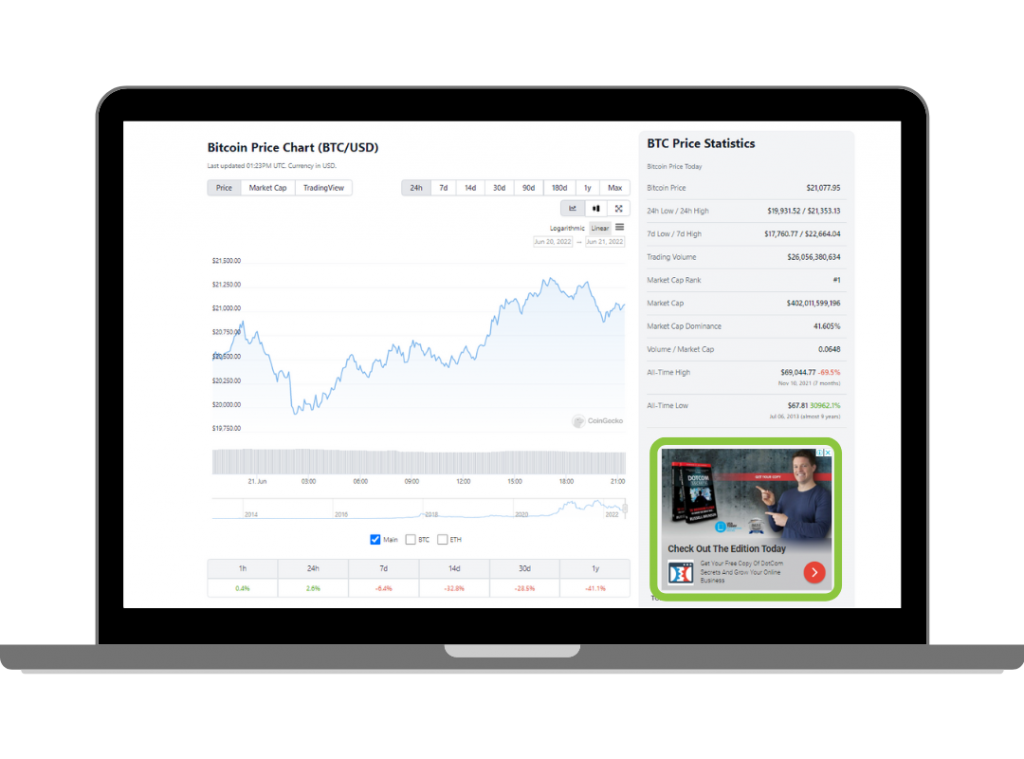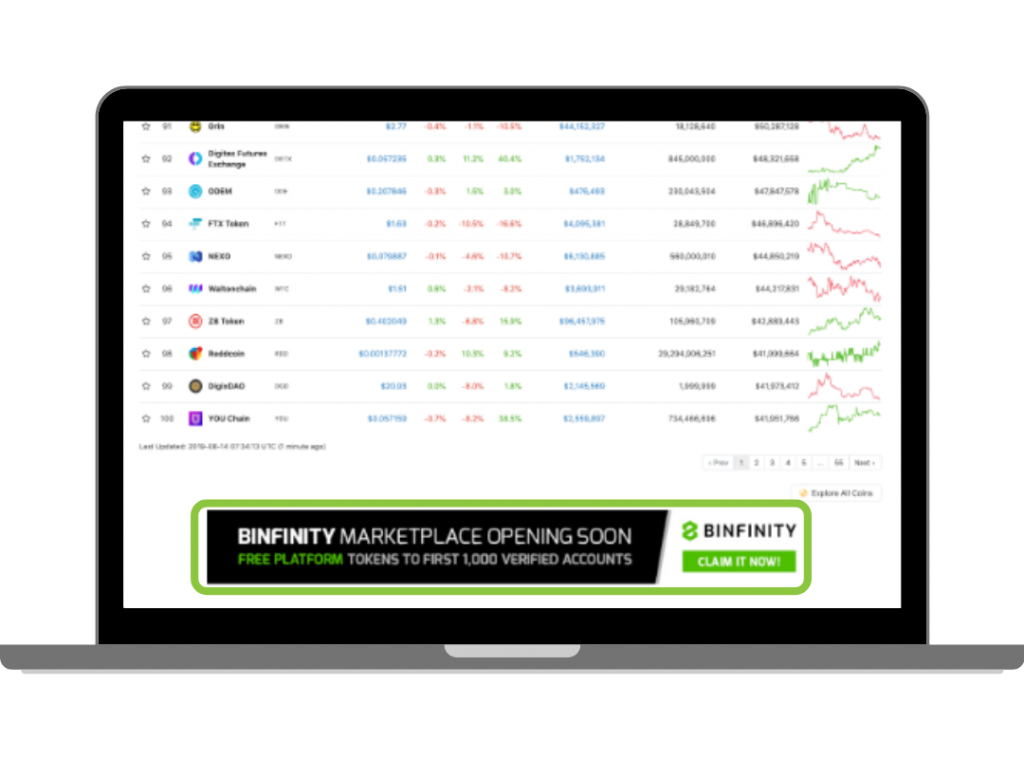 Bottom Leaderboard Banner
(970×90, 728×90, 320x100px)

Generate website visits and convert users with sponsored button ads.
*Available on desktop and mobile web.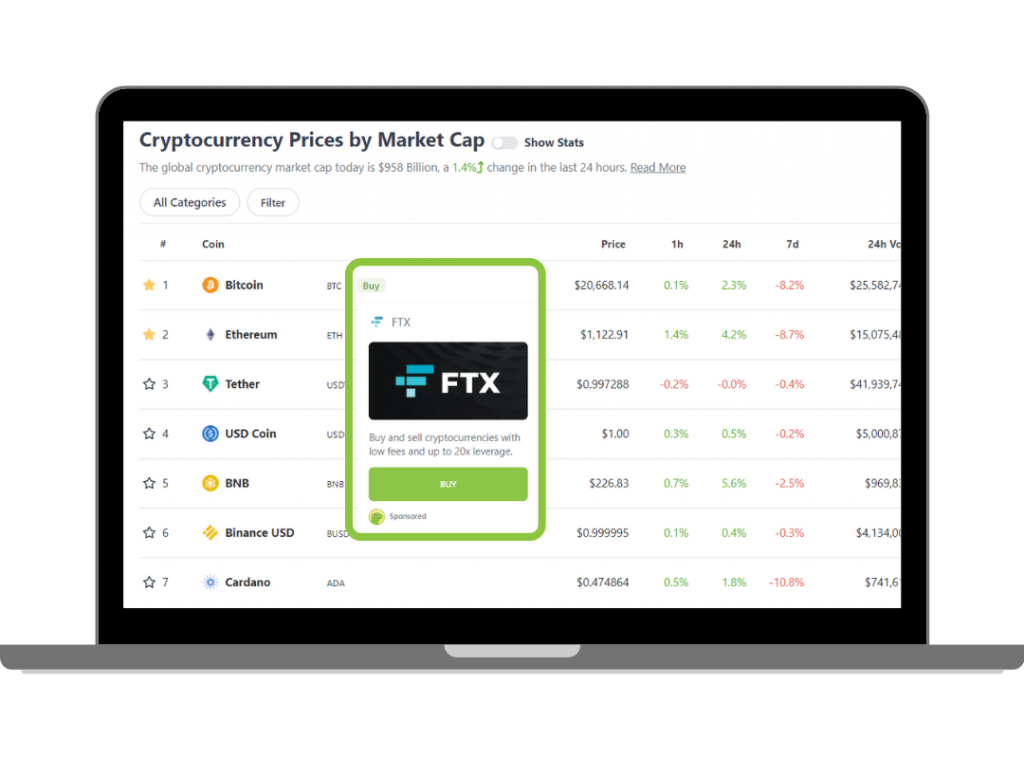 Homepage Buy Button
(Title, Description, Banner, CTA & URL)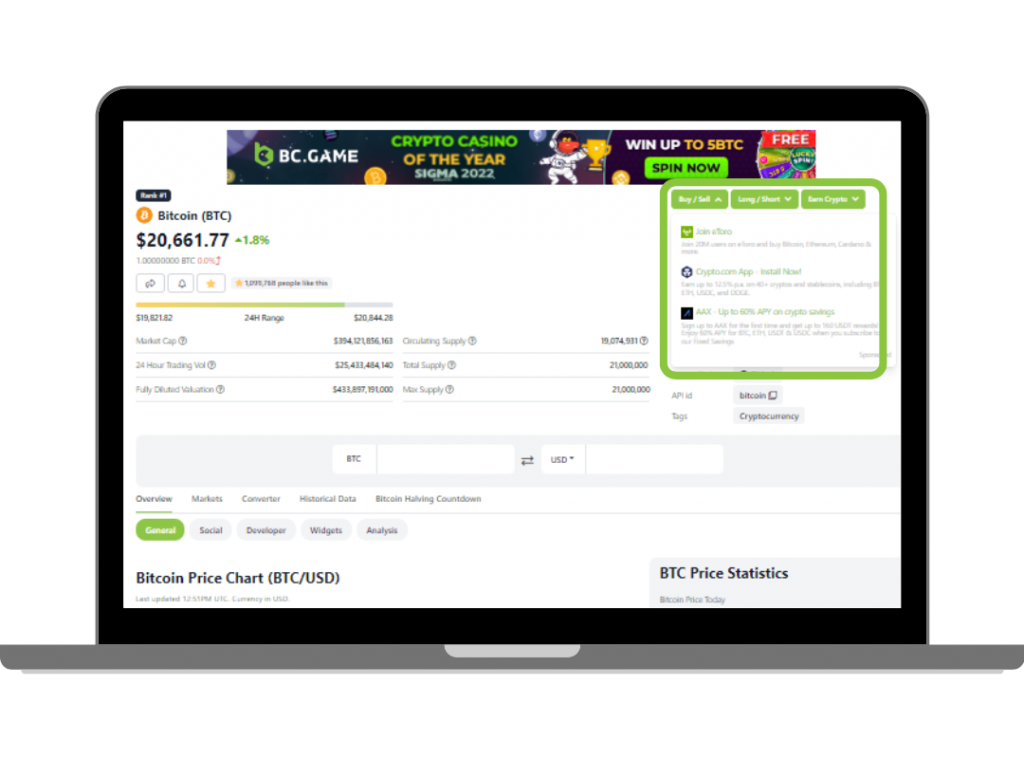 Buy/Sell, Long/Short, Earn Crypto Buttons
(Title, Description, Logo & URL)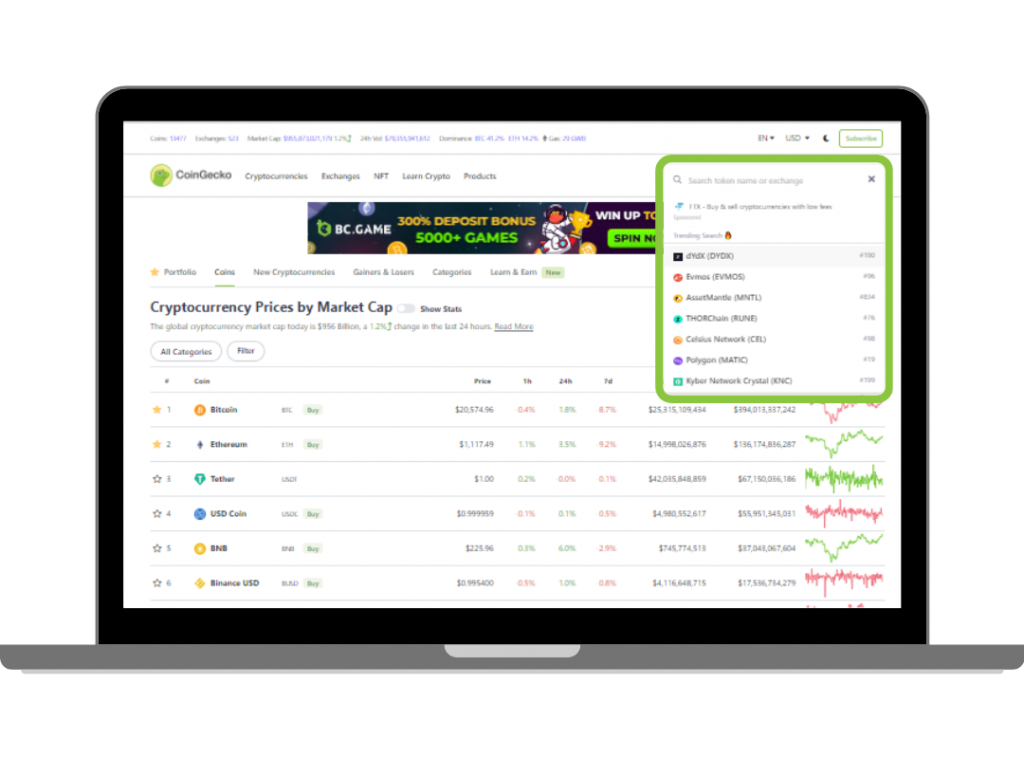 Sponsored Search
(Title, Description, Logo & URL)
Engage your target audiences with your brand's messaging in the sponsored newsletter.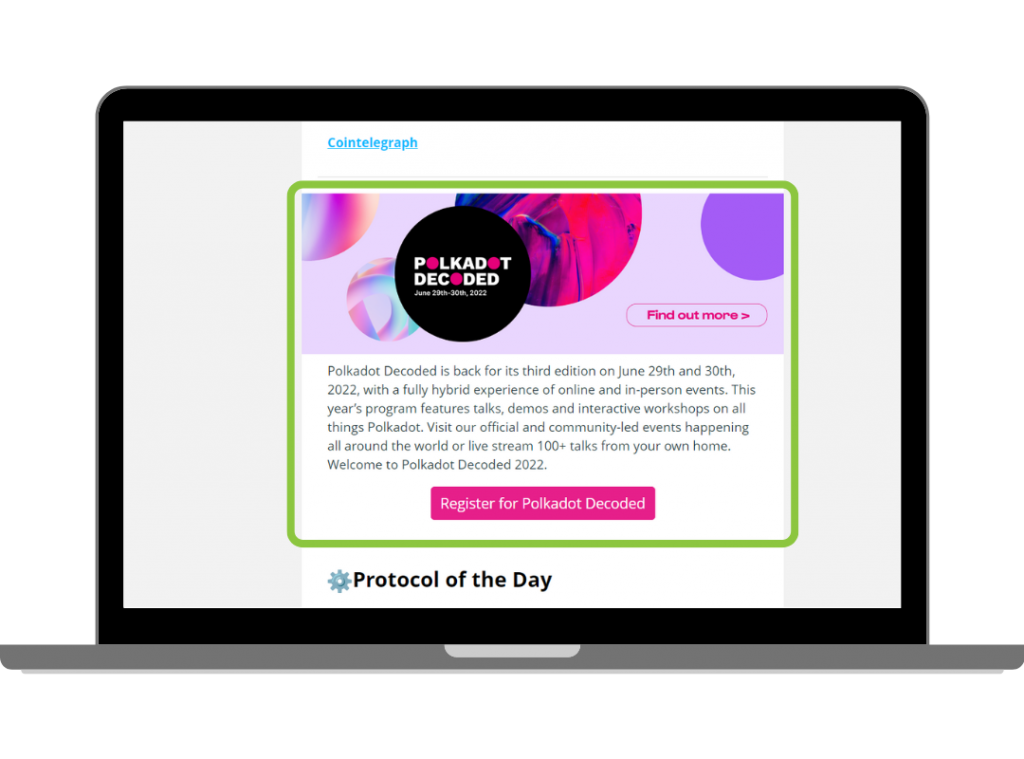 Sponsored Newsletter
(Banner, 80 words write up, CTA & URL)
Ready to connect with your users? Fill out the form and we will be in touch to discuss the advertisement opportunities.
Frequently Asked Questions
Can I advertise my project on CoinGecko?
As per our Advertising Policy, we currently only accept advertisements from exchanges and projects that are currently listed on CoinGecko. If your project is not listed on CoinGecko yet, do refer to the following guide for adding new tokens and exchanges.
What payment methods are accepted?
CoinGecko accepts ETH, BTC, USDC (ERC20), USDT (ERC20) or USD Bank Transfer. We do not accept credit card payments.
Can I get a report of my ad performance?
CoinGecko can provide a report of ad performance upon request. Daily or weekly automated email reporting can also be arranged directly from our ad server.
How fast can an ad be served or changed on CoinGecko?
We require 2 working days to serve an ad or to make any ad changes on CoinGecko. That being said, we strive to fulfil all requests as fast as possible and in most situations, we can complete the requests within 12 hours on a weekday.
What are the targeting types?
Geographical location, language and device targeting options are available upon request.
Are there additional costs to target the banner ads for different coins or countries?
We have different pricing tiers for the geo-location and coin targeting. Please submit your inquiry via the form above, our sales representative will reach out to you soon.
How can I publish Sponsored Articles & Press Releases?
CoinGecko does not publish sponsored articles or press releases. We also do not allow for guest post publications.